PREVIEW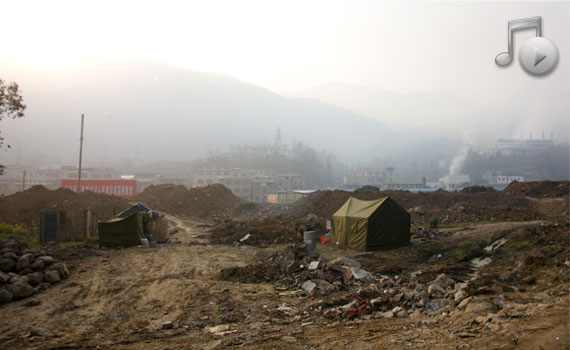 DESCRIPTION

Quake (D.Liang & A.Washburn)

During our interviews with the six students from the relocated Wenchuan Shuimou Middle School, we asked each student what the quake sounded like. Here their voices are mimicking the earthquake. Originally the voice of Yang Yuanying sang a Tibetan refrain to Han Hong's song Hometown (家乡) which was removed due to some unclear copyright issues. All of the students are in relocation schools because their hometowns were devastated by the quake and they are uncertain when they will return home.

Here is an excerpt from the transcript of the interview with Yang Yuanying on March 17:

Q: What did the earthquake sound like?

A: That sound… I don't know how to describe it. It sounded sort of like thunder. It really sounded like the starting of a car, but really scary.

Q: Can you mimic the sound?

A: Hooooh…really scary. A loud hoooooh.

Q: Were any friends, family, or classmates injured in the earthquake?

A: My little brother hurt his foot in the earthquake. He is getting medical treatment somewhere else. My older brother died in the quake, as did my uncle and aunt.
MAP
INTERVIEW + TRANSCRIPT