PREVIEW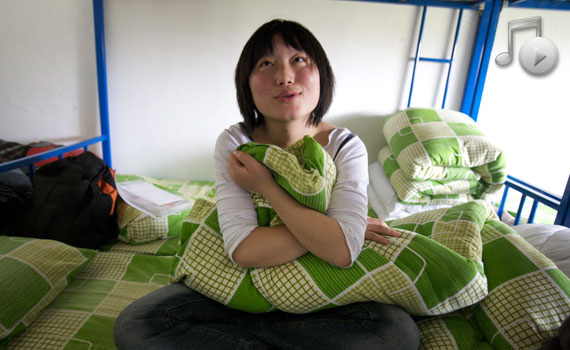 DESCRIPTION

Dream Seek (D.Liang & A.Washburn)

Excerpt of poem "Chasing the Dream" (追逐梦想) by Luo Hongmei (罗红梅)
Poem read by Luo Hongmei (罗红梅)

This is the opening excerpt from a poem written by student Luo Hongmei about life during and since the earthquake. Here is an excerpt from the transcript of the interview talking about the inspiration for the poem and her own life:

Q: How many poems do you have here (at the relocation school)?

A: About a dozen of them.

Q: Is the one you read for us your favorite one?

A: Yes. That's when we just came here... this girl was in our dorm and she really moved and inspired me. She studied in that dim light when we all went to bed. I think she really likes studying. When I saw that scene, saw she was reading, I wished for her that her dreams would come true.

Q: So you wrote this as a result? And what's your dream?

A: I want to be a nurse. Because after the earthquake there weren't any nurses, not a single one in the town I lived---the hospital went down, and there was literally nothing left… seeing people, your relatives die in front of you and there was nothing you could do about it… The field in front of my house is flat so the corpses were laid there… in the front of my home… I was thinking if I had some magic power, I could surely rescue them… really… my family just cried their eyes out.
LYRICS
INTERVIEW + TRANSCRIPT
FIELD RECORDING (VIDEO)